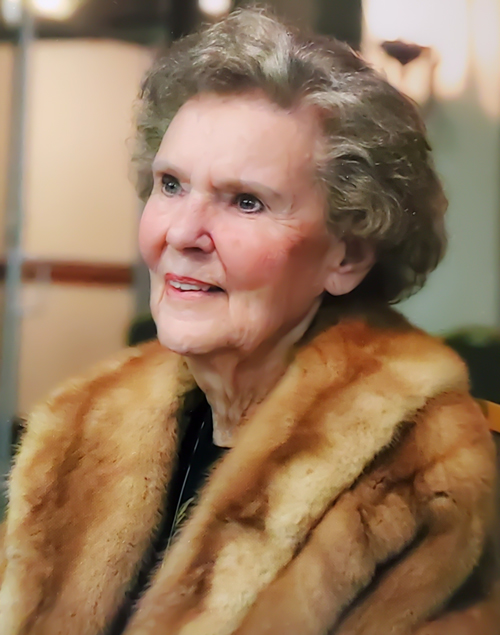 Elizabeth Ann "Liz" Kesler was born June 10th, 1926 in Clay County, Texas, to Chesley Russell and Irene Faulkner Russell. She died at the age of 93, on September 7, 2019 in Henrietta, Texas. She had one sister, Margie, two years older. Funeral services will be held at Bluegrove Baptist Church on Saturday, September 14th at 2 PM. She will be buried in the Bluegrove Baptist Cemetery in the family plot.
Liz went to Bluegrove School until her last two years at Henrietta High School. She then became Assistant County Superintendent of School for eight years. She attended Draughan Business School. She was an excellent administrative professional and later went to work for Standard Oil.
Liz's main love was rodeo, and the people in it. As a young woman, she and good friend, June Bull, a barrel racer, began to secretary and time rodeos. In time they worked rodeos all over the country. Liz often worked for Everett Colborn who had some of the biggest rodeos in the country. June married Buster Ivory and Liz was her maid of honor in 1954. In 1966 Liz met Reg Kesler, a three-time Canadian Champion All-Around Cowboy who had become a rodeo producer. They married in Bozeman in 1971 and lived in Missoula and Rosemary, Alberta, Canada. They produced rodeos in Denver, Houston, San Antonio, Idaho, all across Montana and Canada. Often Reg took stock to one rodeo and Liz headed to put on a second rodeo. Reg knew Liz was capable of handling any rodeo the right way. The young men starting their rodeo career admired and respected Liz and what she did for them in their early careers. They never hesitated to find her years later at a rodeo or rodeo reunion to pay their respects. Reg and Liz were instrumental in starting the PRCA Circuit Finals in 1987 held in Pocatello, ID. Liz secretaried the first circuit finals held in Montana and did so for many years. Liz also taught others in Canada and the U.S. to be rodeo secretaries. She and numerous other wives of important rodeo leaders started the Ladies Fashion Show at the National Finals Rodeo at Oklahoma City in 1967, that continues to this day during the National Finals with proceeds going to the Justin Cowboy Crisis Fund. Liz and Reg became involved with the Cowboy Reunion, with and other rodeo couples, which was held during the final days of the National Finals. The proceeds from the event were given to the Justin Cowboy Crisis Fund, the ProRodeo Hall of Fame, and the Rodeo Historical Society. Liz was also a founding member of H.A.N.D.S., a fifty member group of rodeo women dedicated to helping rodeo families who have health problems, loss of a loved one, or other disasters.
Reg, age 82, on a business trip to Canada in 2001 and was killed in a tragic automobile accident. Liz was always active in Clay County and became one of the founders of the Clay County Historical Society, and became the chairperson for the renovation of the museum in Henrietta. She was always involved in the Pioneer Reunion and Rodeo held each September and was chosen Pioneer Reunion Queen in 2000. She was a member of the Bluegrove Baptist Church. Her great-grandparents gave an acre of land for the Bluegrove cemetery and she was a member of the cemetery board. She was also a Memorial Hospital Foundation Board Member. In 2010 Liz received the Silver Award from the Retired Senior Volunteers of North Texas (which includes 17 counties). She was the 2013 Outstanding Senior Citizen of Clay County.
In the rodeo world she was honored by the Womens Professional Rodeo Association in 1984 for her contribution to them making Montana rodeos available for barrel racers. She received the Montana Governor's Award given by the Montana ProRodeo Circuit for preservation of our western heritage in 1986. In 1988 Reg and Liz were honored as Outstanding Citizens of Missoula, MT. Their outstanding bucking horse, Three Bars was inducted in to the ProRodeo Hall of Fame in 2004 and Liz accepted. Liz and Reg were inducted in to the 2008 Texas Rodeo Cowboy Hall of Fame. Liz received the Tad Lucas Memorial Award at the National Cowboy & Western Heritage Museum in 2010. Liz and Reg were also inducted in to the Montana Wall & Hall of Fame in Billings in 2010. In 2013 Liz was honored by receiving the American Cowboy Culture Award as Pioneer Woman at the Cowboy Symposium held in Lubbock, TX.
She is survived by her niece, Phyllis Jones; Kasey, Brian, Asa & Roxy Byrne; Shane Patton; Jamie, Suzy, Rita Kenny, DJ Patton; Becca, Reg, Kaia, Leo; and numerous cousins and life-long friends. Reg Kesler's children in Canada daughters, Jeanne Kesler Cesar (Lee), LeeAnne Lane (Keith), Pat Kesler Norton (Gary), Judy Kesler (Mrs. Greg), Dale Clifton. Canadian grandchildren Mark Cesar (Ashley); Jesse Cesar (Amanda); Angie Cesar Nelson (Curtis); Allan Norton (Clarissa); Tim Norton (Pam); Steven Norton; Richard Norton (Michelle); Loni Norton Snow (Todd); Lori Norton Fowler (Sam); Christy Lane Boot (Henry); Lydsay Lane; Randy Brauer (Susanne); Wendy Fox; Shawna Tanner (Don); Duane Kesler (Margo); and Berva Dawn Kesler (Roy) and numerous great & greatgrandchildren.
Liz was predeceased in death by husband, Reg Kesler; parents, Chesley & Irene Russell; sister Margie Chisholm and husband, Branum; niece Suzanne Patton; and Reg Kesler's children, Janet Clifton, Greg Kesler and grandchild, Jamie Clifton.